Link to Book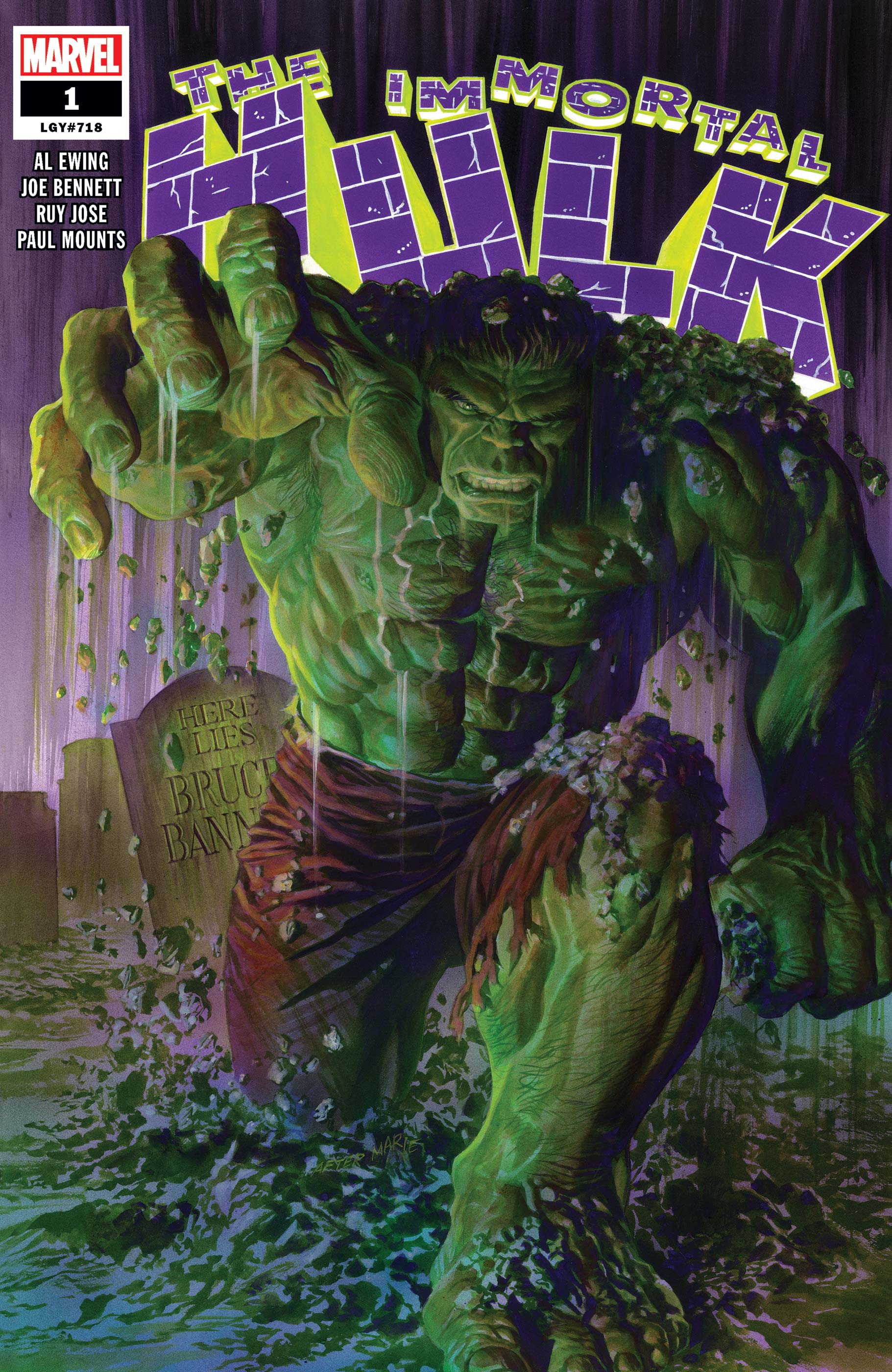 5/5 Stars
Alright, this isn't my normal book review, but these comics moved me in a way that not much media. From what I understand the Author, Al Ewing, originally planned the Immortal Hulk only to be 25 issues, it's now gone beyond that by a handful and looks like it will continue to move forward. However, I think this initial arc will likely be the most impactful of the Immortal Hulk stories. Or at least of telling a story about the costs of abuse on individuals, their relationships, and society as a whole.
So, most of you are used to seeing Hulk and Incredible together. Well, that character was killed. Bruce essentially committed suicide by way of Hawkeye. After some Avengers tomfoolerly Hulk was brought back to life by the Grand Master during a chess match. This resulted in the Hulk becoming the Immortal Hulk.
*Spoilers ahead!*
Hulk is still on the run, as is normal in his comic books, but there's a decided different tone about the chase and the fight. Mostly, because Hulk isn't just chased by the military, but he's chased by the ghosts of his past, literally, his father (who Bruce Banner killed) attacks him. There are also multiple Hulks in this. The ones I'm going to discuss are Devil Hulk (very intelligent, but well, evil), Savage/Child Hulk (The Hulk in the MCU, dumb and innocent), and Bruce Banner. There are a few others, but I'm not going to bring them up here.
I'm going to present a few key scenes that I think really convey a theme and discuss the themes below. The first scene that resonated with me is a scene where Bruce's father comes home to find Bruce playing with a toy that's significantly more advanced than what he should be playing with. This enrages his father, who lashes out at the boy. He throws a full glass of booze at Bruce. He slaps the boy, then demands Bruce's Mother go with him leaving the boy. He then becomes the Breaker-Apart. The first signs of his rage.
The second scene that hit me is when Hulk goes to hell (it makes a lot of sense in the story, believe me). However, when he's in Hell, he looks sickly and is wasting away, so he doesn't look like the hugely strong being we're used to seeing. While down in Hell, he and his reporter sidekick (McGee), begin to meet people they've lost. One of the people Devil Hulk comes across is Thunderbolt Ross, Bruce's Father-In-Law. Devil Hulk flies into a rage while being the deadman and turns into Savage Hulk. Afterwards, McGee stops the Child Hulk and Hulk responds by saying "Why does Hulk hurt, why is Hulk always hurting." Tears are streaming down his face. Rather than hugging or supporting the child Hulk, McGee demands to speak with Devil Hulk. Devil Hulk responds that Ross could have been a father to Bruce.
After going through Hell, Hulk finally finds Bruce. He'd been held captive by his father in Hell. Bruce wants to give up and stay in Hell, never going back to earth. Just ending it. The Devil Hulk offers a hand, Bruce asks why, Devil Hulk says "Cause I love you kid." Bruce looks at him with tears in his eyes. Hulk continues, "Someone had to."
The next scene is one where Bruce meets his ex-wife Betty Ross. She's angry that he didn't immediately reach out once he came back to life (it's been about 8 months at this point). At first she's really welcoming, but during their conversation she decides to end it. However at this time she's murdered by someone chasing the Hulk. This of course enrages Bruce and he chases after the bad guy. An issue later we find Devil Hulk fighting the abomination, who eventually blinds Hulk and cuts off each limb – at this point Hulk is Child Hulk. We suddenly see Betty as the Red Harpy, her own Hulk manifestation. Child Hulk begs for help and love, instead Betty decides to literally rip Hulk's heart out and eat it.
Eventually this all ends in the final chapter, where the Hulk becomes the last being in the Universe and is given immense powers as a guardian in the next. However, being Hulk, he consumes and disrupts everything. We see near the end that the Hulk is massive and is clothes lining planets, destroying them. The Great Breaker-Apart he is called. A being sees into the Hulk, inside there's an infinite number of Bruce's screaming in pain. There's a great Hulk crying that out in torment. In the end, the Hulk is all that is left. Alone.
To me, this is a story about abuse. Emotional. Physical. Bruce was diagnosed with Dissociative Personality Disorder, which is clearly a result of the trauma he experienced as a child. The gamma bomb turned that trauma into a literal monster, the Hulk. The series indicates that without strong support of people around us to counter that trauma (specifically the McGee scene in Hell), that Trauma will turn us into monsters. That we then turn everyone around us into Monsters. That there's parts of us, however monstrous, that need love and support to get through it. If we don't get it, in those opportunities, someone else will provide it that might be malignant. Bruce created the Devil Hulk as his ultimate dissociation, where even the Hulk would turn to in his deepest pain. Bruce turned to that Monster, who wants to tear down society, because of Bruce's pain.
There are things about the Devil Hulk's plan to destroy society that make it the right target for his scorn. Society as a whole drove Bruce's father to act the way he did in some regards. We often reject people in pain, in many cases they disgust us – in some cases because they remind us of our own weaknesses. Furthermore, the world itself inserts its demands on us, which in many ways are more important than our needs. Hulk NEEDS love while he's in Hell. McGee isn't able to give it because she's afraid, but also because she's in literal Hell and Devil Hulk is the only one to fix it. So Hulk dissociates so he can deal with the world. Trauma isn't dealt with. Devil Hulk becomes dominant.
This is a really sad comic. It's amazingly written. The art is fantastic. I strongly recommend checking it out.